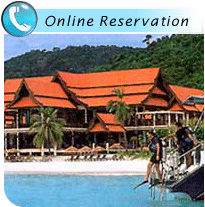 Laguna Redang Island Terengganu
S-5, Wisma Tenang,
Jalan Sultan Sulaiman
20000 Kuala Terengganu
Malaysia
Accommodation at Laguna Redang Island Terengganu

Laguna Redang Island Terengganu boasts of a beautiful location in the Kuala Terengganu area of Terengganu, Malaysia. The hotel is built in traditional Malay architecture. Laguna Redang Island Terengganu has 212 rooms, which are elegantly appointed and provided with all the modern facilities.

A1 Malaysia Hotels provides information on Hotels in Malaysia and online hotel booking for Laguna Redang Island Malaysia and budget hotels in Malaysia. You can book a room online in Malaysia hotels on discount and affordable rates through A1 Malaysia Hotels. We provide online hotel booking facility for Terengganu hotels, Kuala Lumpur Hotels, Genting Hotels, and hotels located in other parts of Malaysia.