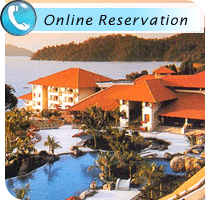 Swiss Garden Resort Kuantan
2656-2657, Mukim Sungai Karang
Balok Beach, Beserah,
Kuantan,
Malaysia


Accommodation at Swiss Garden Resort Kuantan
A beautiful beach resort on Balok Beach, Kuantan, Malaysia; Swiss Garden Resort is an excellent place to relax and rejuvenate. The beach resort offers luxurious accommodation and is fully equipped with all the modern facilities. Swiss Garden Beach Resort Kuantan is eight minutes' drive from Kuantan town. The beach resort has 306 deluxe guest rooms, which are beautifully decorated and provided with all the modern facilities.



A1 Malaysia Hotels provides information on Hotels in Malaysia and online hotel booking for Swiss Garden Resort Kuantan, Malaysia and budget hotels in Malaysia. You can book a room online in Malaysia hotels on discount and affordable rates through A1 Malaysia Hotels. We provide online hotel booking facility for Kuala Lumpur Hotels, Penang Hotels, Langkawi Hotels, and hotels located in other parts of Malaysia.