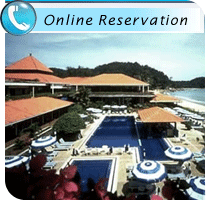 Hyatt Regency Kuantan
Telok Chempedak,
25050 Kuantan
Pahang,
Malaysia


Accommodation at Hyatt Regency Kuantan
Offering panoramic views of the South China Sea; Hyatt Regency Kuantan is beautifully set on the beachfront of Telok Chempedak. One of the finest hotels in Kuantan Malaysia, Hyatt Regency makes of an ideal accommodation on your tour of Kuantan, Malaysia. Built in traditional Kampong (Malaysian Village) style, the hotel has 330 rooms and suites.



A1 Malaysia Hotels provides information on Hotels in Malaysia and online hotel booking for Hyatt Regency Kuantan Malaysia and budget hotels in Malaysia. You can book a room online in Malaysia hotels on discount and affordable rates through A1 Malaysia Hotels. We provide online hotel booking facility for Kuala Lumpur Hotels, Penang Hotels, Langkawi Hotels, and hotels located in other parts of Malaysia.